Ann Krajewski (pronounced Kry-evski) began her adventures in the art world in the time-honored tradition that most budding artists starting out do In diapers, of course!
Her parents leather bound first-edition books were the first victims, and why not? There were always blank pages available at the beginning and end and she filled them with pictures of snakes with high heels and earrings.
After she couldnt get enough of the light spankings from these pre-school pranks and went on to re-do her familys lovely tapestries in the style she liked best at age six- lots of latex, lots of red. Later she figured maybe destroying the family heirlooms werent in anyones best interest. But she really liked black and white fanzines and liked to try to draw those portraits of Liz, Dick and Betty- at least when she wasnt hoping to be on Dick Cavett or Mike Douglas in her fab leopard-wear and gestulating with the stogie in hand.
So instead she discovered Andy Warhol and Peter Max and the joy of Pop Art. It was a revelation to her parents when, during her first visit to New York Citys Metropolitan Museum of Art that a little girl could possibly get them arrested by running up to the famous Georges Seurat painting Sunday In The Park with a handful of crayons screaming, Connect the dots!! Connect the dots! Im gonna do it!!
After that it was all a blur of glam gigs, learning experiences and ultimately, the charm of her childhood near Ithaca, NY, the love of her life which is somewhere out there yet to be discovered , he/she may be reading this right now ! Do I hear dinner ? And a tiny panther.
She survived it all to become the happy hack she is to spend time with you.
Special thanks go out to Ann Krajewski and Lauren Stefanelli and Pegasys for giving BullsEye Radio permission to air Ann's show for you all to enjoy ! All you have to do is click either the Quiet Asylum Logo or the menu link and you'll see her weekly 30 minute show !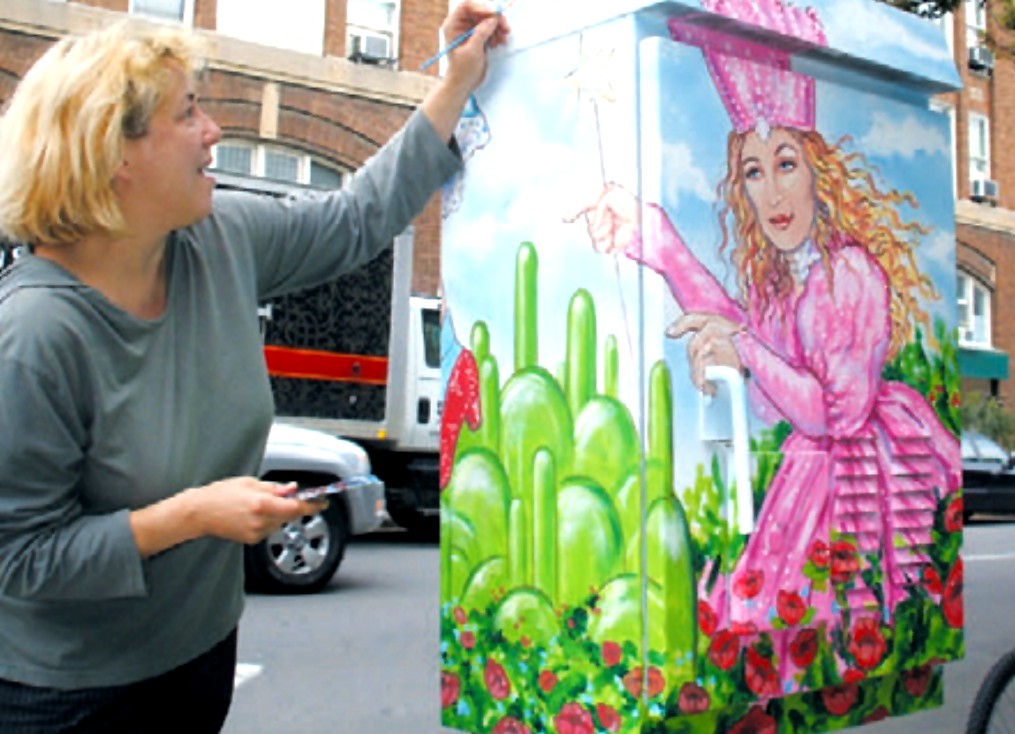 THE PHOTO YOU SEE ABOVE IS ANN PUTTING THE FINAL TOUCHES ON HER WIZARD OF OZ ELECTRICAL BOX WHICH IS SHOWCASED FOR ALL THE WORLD TO SEE IN DOWNTOWN ITHACA NEW YORK.
AN AMAZING TALENTED YOUNG LADY WHO JUST ENJOYS LIFE TO THE MAX, AS YOU CAN SEE BY THE SMILE ON HER FACE, AND THE FUN SHE HAS WHEN YOU SEE HER ON THE TELEVISION SHOW ( WHICH YOU CAN SEE ALL THE TIME HERE ON BULLSEYE IF YOUR NOT LOCAL TO CENTRAL NEW YORK ).

If this email doesnt click properly her email address is : annimation78@live.com